Public awareness around the release of plastic pellets into the environment is prompting legal actions and new regulatory activity. Here are two things to do – and two things to avoid – to proactively address your organization's potential liabilities.
Plastic pellets are the building blocks for the creation of plastic goods. They are essential to the plastic manufacturing process as plastic resin is commonly handled in the form of pellets, with over 350 million metric tons of plastic resin produced globally each year. As a result of this production, it is estimated that more than 230,000 tons of plastic pellets are released into waterways worldwide each year. There is a growing concern regarding legal actions, regulatory activity, research into human health and ecological impacts, and a corresponding enhanced focus on addressing this emerging environmental liability.
Citizens, courts, and regulators are taking notice
Regardless of the uncertainty concerning human health/ecological risk, given the highly mobile and visible nature of plastic pellets it's not surprising to see citizens and non-government organizations (NGOs) fighting to keep pellets out of the environment. Citizen groups around the world are forming patrols to actively seek out plastic pellets in the environment, sharing locations, photos, data and assigning assumed responsibility widely on social media platforms. In the U.S., citizen groups have become active legally, leading to lawsuits and settlements including a recent $50 million settlement in Texas that was in addition to the cost of remediation and legal fees.
This heightened public awareness is prompting more aggressive regulatory enforcement and promulgation of new rules around current and historic releases, similar to the response we've seen in recent years with 1,4-dioxane, PFAS and other emerging contaminants. California and Texas have recently issued new regulations, and last September the Plastic Pellet Free Waters Act was introduced in the U.S. Senate.
A challenging issue to address
Addressing liability related to the release of plastic pellets is quite challenging due to the convergence of several factors:
Lack of standardized analytical methods: Unlike other contaminants, there are no standardized analytical methods and no contaminant level thresholds to measure against.

Lack of regulatory guidance: The regulatory landscape is evolving and there are inconsistencies across states among the new regulations being proposed and implemented.

Risk perception is greater than the actual risk: The enhanced mobility and highly visible nature of plastic pellets leads to a perception of greater harm.

Comingling of released pellets: Many plastic pellet producers are in proximity of each other within the same watershed making it difficult to differentiate between producers by observing pellets in the environment.

Difficult to clean up: Plastic pellets' physical properties lead to widespread dispersion into aquatic environments that are difficult to access and remove pellets from without damaging the area targeted for cleanup.
Given these challenges, it can be difficult to know where to start when considering how to address plastic pellets in the environment. Fortunately, there are things you can do (and some things you shouldn't do) to address this emerging concern in a proactive, risk-based strategic manner.
Don't: Bury your head in the sand
This issue is not going away. Smart organizations will get in front of things and begin to strategically position themselves to proactively address potential liability. Senior management should be made aware and become engaged with this emerging concern, and all stakeholders should be brought forth to contribute toward a solution. Having sound data and showing a good faith effort toward mitigating environmental impacts will make it easier to address NGO concerns and partner with regulatory agencies when the time comes for remedial action.
Do: Enhance your on-site capture protocols
First and foremost, ensure you have in place best management practices (BMPs) and housekeeping protocols to achieve the maximum feasible extent of pellet capture at the point of release. Consider upgrading your BMPs, reviewing pellet handling practices and updating training to ensure attention to detail regarding pellet capture. Work to create a "zero discharge" culture among staff at all facilities. The best way to get ahead of future fines or litigation issues is to stop releasing pellets into the environment. That way, your organization can focus solely on addressing historical releases.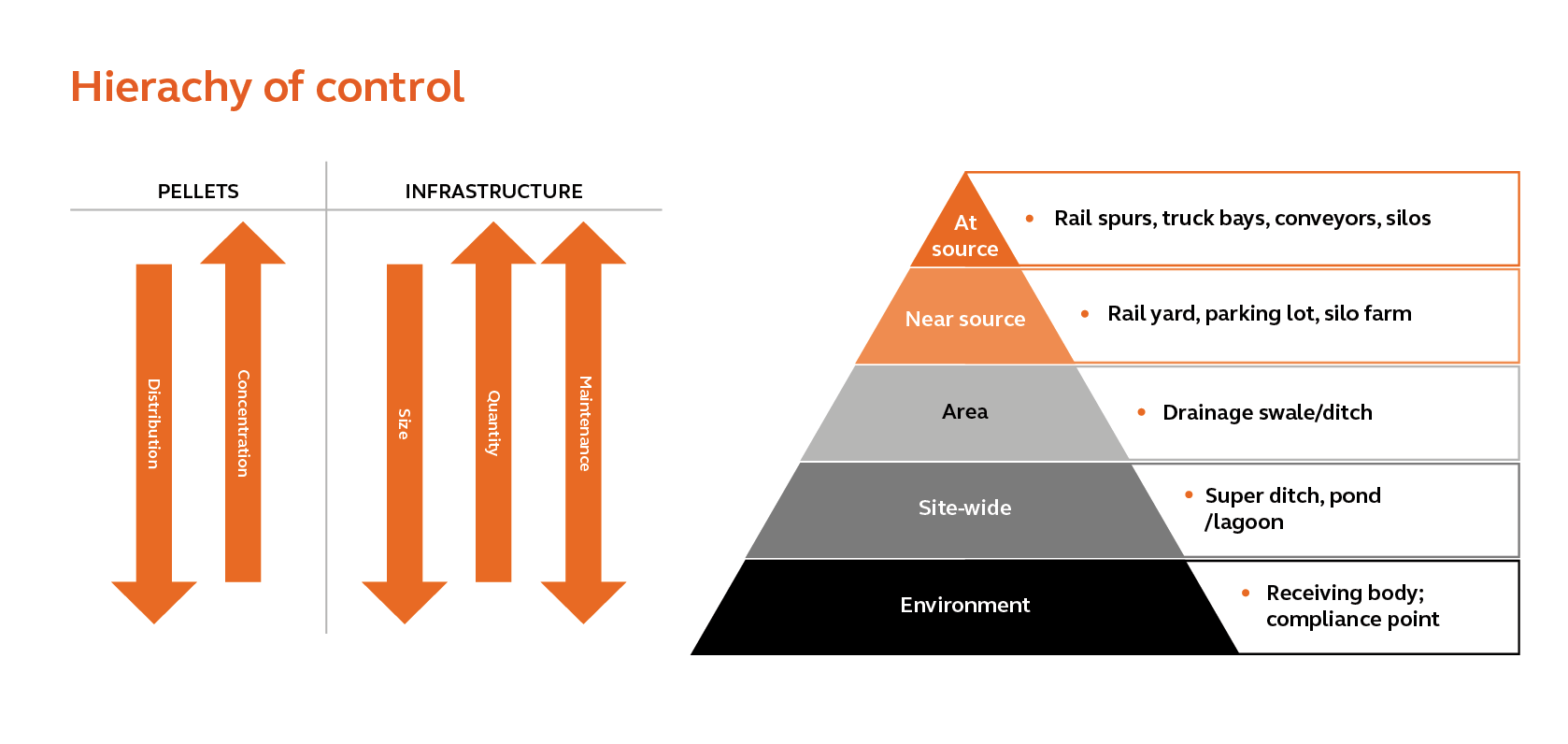 Don't: Rush into a cleanup
It might be tempting to launch a cleanup effort quickly to show your organization is tackling the challenge head-on. However, without a proper risk-based site investigation a cleanup will always struggle to establish and meet a "how clean is clean" expectation. Similarly, as research and regulations evolve it may turn out your cleanup was done incorrectly and/or you created undo harm to the environment you tried to restore. A rushed cleanup response could very well complicate or even increase overall liability.
Do: Invest in a holistic risk-based strategy
No matter what the regulatory framework and public scrutiny regarding plastic pellets may be, your organization's plan should revolve around your unique risk profile, site conditions, stakeholders and resources.
Addressing plastic pellets in the environment warrants a site-specific risk-based approach. One size will not fit all, and you will have multiple options for removing plastic pellets from land and waterways. The process begins by first addressing on-site source control and then (often concurrently) a comprehensive site investigation and delineation of released plastic pellets should occur. It is important to determine what the cleanup levels will be. It usually is not feasible to remove every plastic pellet. Defining "how clean is clean" will set the basis for design and the benchmark for remediation success. This effort is followed by an informed evaluation of cleanup methods and permitting requirements, performing the removal action, and post-cleanup monitoring. You'll want to include stop gates throughout the process to allow for senior management engagement, risk review, options analysis, stakeholder engagement and data-driven decision-making as the plan progresses.
Your plan should also consider long-term maintenance as well as the potential for integrating planned capital projects and/or site improvements (e.g., habitat enhancement) into the project so you achieve the most sustainable, cost-effective solution.
Have more questions?
Addressing plastic pellets in the environment is a challenging endeavor. My experience working with clients is that with full stakeholder commitment and thoughtful deliberate consideration, development of a site-specific, risk-based approach is achievable; one that proactively addresses current liability and best "future proofs" a position that is resilient to growing public scrutiny and regulatory oversight. Please reach out with any questions on how to begin to build a foundation for your site-specific holistic approach.
Our next webinar on plastic pellets, "Plastic pellets BMPs: Containment, capture and removal options," will be presented October 7. Be sure to save the date and contact continuingedwebinars@arcadis.com if you'd like to be notified when registration is available.